ClubWPT Review
ClubWPT is one of the best places for playing different poker games for US players and players from other countries. But this poker room differs from others a lot. The core difference is that WPT Club is a subscription-based room where you can win real money without making a deposit. This review will tell you all you need to know about this poker room.
If you are familiar with other poker rooms you know that you need to deposit money in order to be able to win valuable prizes. In traditional rooms, you have to pay buy-ins to reserve a seat in a tournament or you have to take your money at the table with you in cash games. Everything depends on the amount of money you are ready to spend.
The bad news is that most new players are losing their deposits again and again. They have to deposit money because otherwise, they wouldn't be able to play in tournaments with valuable prizes. They will not be able to pay buy-ins or participate in cash games.
ClubWPT is not a traditional poker room. You don't need to deposit your money here. You can't lose all your money because you don't deposit it! All you need to participate in big tournaments is to purchase a VIP subscription. This subscription allows you to participate in games with real money prizes, read special guides and materials, watch WPT TV, read the magazine, and do many other interesting things. And everything is just for a flat monthly fee!
If you are from the USA you will hardly find beret and safer place for playing poker games. As you know European poker rooms don't officially accept US players. ClubWPT is 100% legal and it is US based.
Players and Opportunities Review
In general, there are a lot of weak players in ClubWPT. Many of them are playing with play chips and don't know how to play serious poker. On the one hand, it's not so good because sometimes you will see really bad beats. But on the other hand, you may get a good advantage if you know how to play. Skill is very important in all poker games and if you understand rules you can succeed here.
Playing smart poker at WPT Club can bring you a lot of money. If you know how to play you have an advantage over most of the players here. This advantage can be transformed into money, tournament tickets, and useful goods.
Software Review
Several years ago you would have to download a special installer in order to play. But today ClubWPT can be played from your web browser. It's a great solution because you can play from any computer with the internet and web browser. You don't need to download any software and install it. Play Hold'em from any place.
The design of the lobby is pleasant and is made using traditional WPT colors: blue and white. Many players like how the poker room looks. Everything works well and pretty fast, though sometimes there may be latency. If your internet is not working well you may have difficulties, but it's not about WPT Club only.
One of the most pleasant things is that the Club has its own unique design of the tables.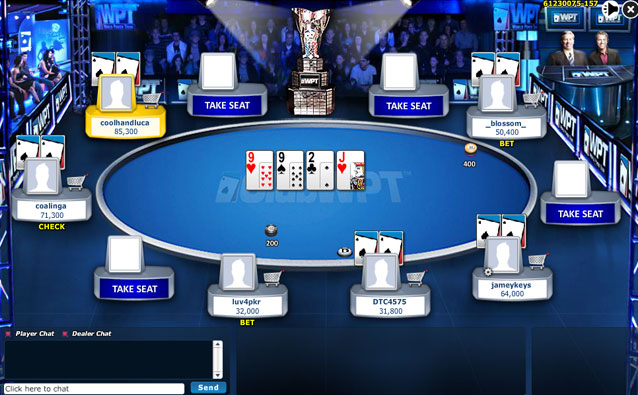 Tournaments
Tournaments is one of the most interesting and rewarding games at ClubWPT. If you are a tourney player you will find a lot of tourneys to play. When you log in to the room you can see a list of upcoming tournaments. Different promotions are held regularly. ClubWPT spends about $100,000 on cash prizes every month. It's a great prize pool and not every room spends such an amount of money on promotions! But money is not the only reward. You can also win different goods and even WPT Live Tickets. As you see the room gives an opportunity to participate in Live WPT Events!
Money Transactions
Deposits are not required. This room is subscription-based and doesn't require you to deposit money. All you need is to buy a special subscription. You can do it using your Visa or Master card. Don't forget that the room accepts players from only 5 countries. You can find the list below. What about cashouts? Cashouts are usually fast. You will have no problems with your money. You can cash out all your winnings at any time without difficulties.
Support
The support staff is always polite and is ready to help you to solve your problem. World Poker Tour Company which stands behind the Club is a huge organization and they care about their customers. You can contact support at any time.
There are several ways to get in touch with support: WPT Club offers traditional e-mail support for basic members. Premium members can use Live Chat for immediate response. Live Chat is available 7 days a week from 1:00 PM – 5:00 AM EST.
Eligible Countries and Territories
Here is a list of eligible Countries. Players from these countries are allowed to become VIP members, meaning they can participate in tournaments where real money can be won.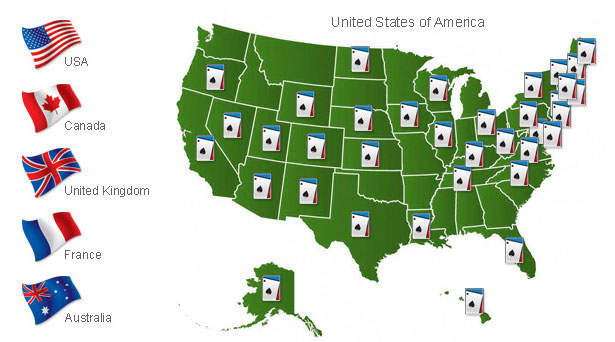 Eligible International Countries

United States of America (USA)
Australia
Canada
France
United Kingdom
If you look at the list of countries you will see that all players can speak English and you will be able to play and communicate in a friendly atmosphere. You will not see unfamiliar signs and letters in chat.
People from all territories of the USA except some Ineligible are allowed to be VIP members. Here is a list of Ineligible territories. Players from Ineligible territories are not allowed to use full VIP membership benefits but they can use other bonuses of being a club member such as Pro tips and others.
Ineligible Territories

Alabama
Idaho
Michigan
Montana
Missouri
South Dakota
Arkansas
Indiana
Minnesota
Oklahoma
Washington
Georgia
Maryland
Mississippi
South Carolina
Guam
Puerto Rico
Virgin Islands
Palau
US Minor Outlying Islands
American Samoa
Federated States of Micronesia
Marshall Islands
Don't try to cheat with WPT Club. If your territory is not allowed to play in VIP tournaments – don't even try. The reason is that if you win something you will not be able to claim your prize. A winner will have to prove that he is eligible to take the prize by completing account verification. You will be asked to send copies of your documents for this. It's a pretty standard procedure in poker.
Final Review
Club WPT is a player-friendly subscription-based poker room. You can be a basic or a VIP member here. The difference is in the services you receive and in the games you can play. Though only 5 countries are eligible it is very interesting to take part in every game and promotion. All players speak English and you will hardly see unknown symbols in chat. A player doesn't need to download software in order to play. All you need is to open your browser and join the biggest poker club in the world!