ClubWPT Software
If you have played poker online before you know that you need to download and install special software in order to play. That's correct if you speak about other poker rooms, but this poker room is different. You are not required to download ClubWPT. A player can play poker games right from web browser. It's rather comfortable. You don't need to download and install special software.
That's great because you can access your account and your favorite games from any place with PC and internet. This gives you more mobility and flexibility. Some players may not like it, but unfortunately it's the only option to play.
In general lobby of ClubWPT is similar to other poker rooms' interfaces. If you have ever played poker in other rooms you will not have difficulties. Everything is pretty standard: first of all you need to create a new account and log in. You will see "Play Now" button. Press it and poker lobby will be opened in your web browser.
After you click "Play Now" you will see beautiful loading screen: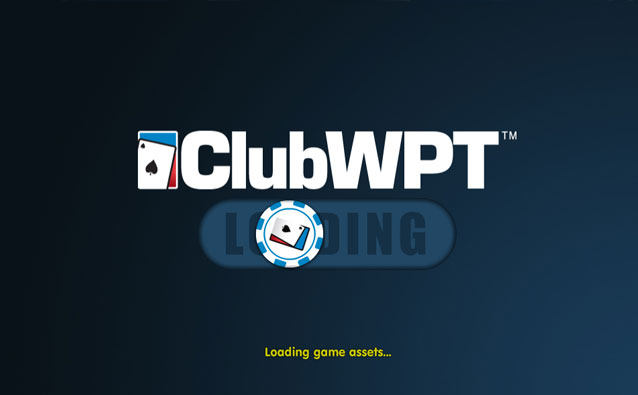 Main Lobby
Main lobby is easy to navigate and use. In the top part you can see 3 tabs: Poker lobby, Blackjack Lobby and Casino Games. Filters can be found on the right: for example poker games can be filtered by game type: No-Limit, Limit, Omaha, 7 Stud.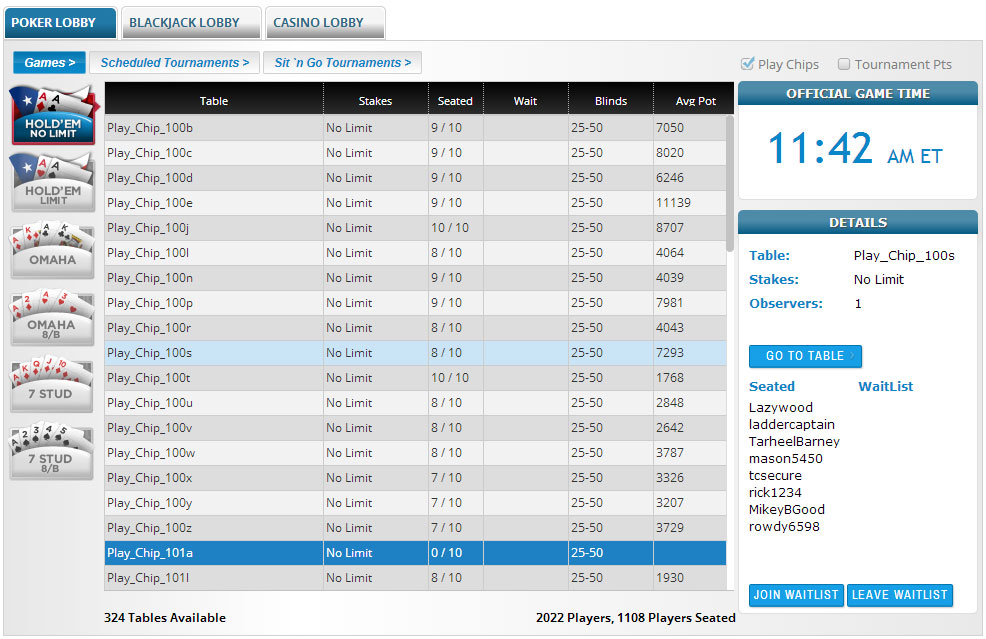 Holdem Poker games are also divided into Ring Games, Tournaments and Sit'n Go tournaments. Scheduled tournaments are the tourneys that have starting date and time. SnG tourneys do not have starting time. Every SnG tourney starts as soon as all seats are occupied.
Central part of the lobby displays all available tables or tournaments with details. For example you can see name of the table, type of the game, free and occupied seats, waiting list, blinds and average pot.
You will be surprised but there is no any real money balance displayed. That's because WPT Club is subscription based room where you can play without making deposit. You just purchase subscription and play any games you wish.
VIP players have special Tournament points balance. These TP can be spent as buy-in in tourneys with real money prizes. Tournament points are main "currency" of WPT poke Club. Every player has 500 TPs but if the balance drops below this threshold it will be automatically topped up. This happens once a day. But there is one more way to get TP – to win them. You can have as many points as you can win. It is impossible to buy or sell TPs.
Not all Tournaments require TPs to play. For example Freerolls are absolutely free and every player can participate. You can win Tournament Points in freerolls.
In general ClubWPT is a poker room for tournament lovers. Ring games are also available but for play-chips only. All great rewards can be won in tourneys only. That's why most of the members play Tournaments.
Poker Tables
You can see ClubWPT poker table on a screenshot below. This screenshot was taken from real game and you can see how the table is designed.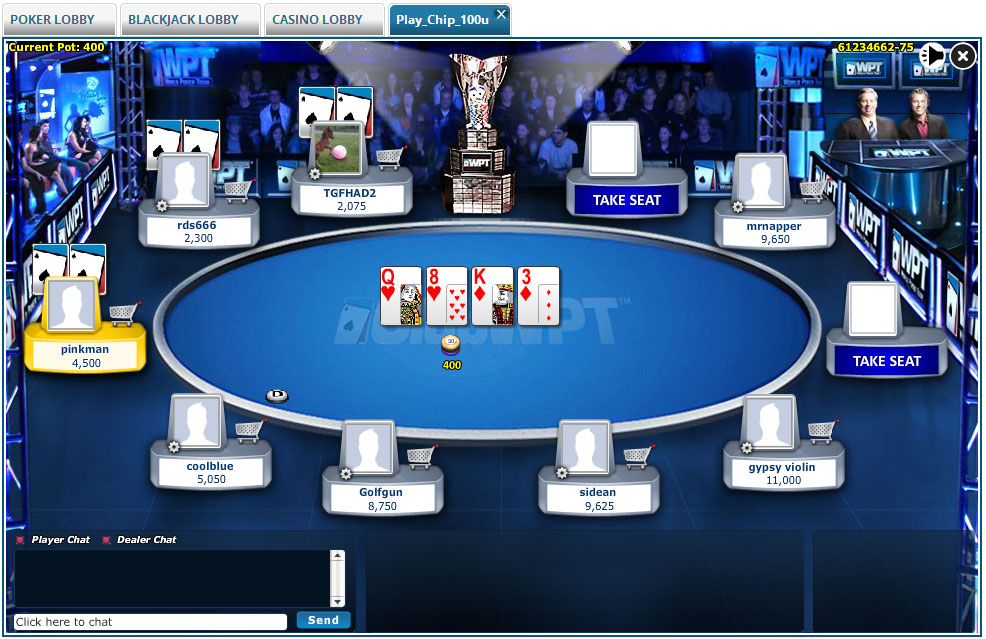 Poker Table looks very similar to tables in other rooms. In top left corner you can see size of the current pot. In top right corner there is sound switcher which allows switching off sound. Bottom part is occupied with chat and control buttons when you ate playing. Every player can have his own avatar.
Tables don't have unique features but you can find all you need for comfortable poker playing.